REASONS FOR HAVING A DIFFERENT DOMAIN REGISTRAR THAN HOSTING PROVIDER
When setting up your blog you'll be faced with the decision on where to register your domain and where to host your website. Sometimes you might be better off having your domain registered with a different provider than the one you'll be using for hosting your website. There are various advantages why you should consider that. Just imagine you want to register a domain name with a company which does not provide any hosting services or you like a particular hosting company which does however not offer the domain registration you want.
Another advantage could be the price. When doing some research we found that we'll be paying less in total (domain registration and hosting services) if we went with a different hosting provider than where we registered our domain. That of course is dependent on the services you want and the packages you choose.
Lastly, but one the main reasons why we decided to have them separate from each other is that we wanted to go with the best in its respective field. Meaning some hosting providers might do an excellent job hosting your website however are not the leader when it comes to registering your domain and vice versa. We found that GoDaddy had an excellent reputation for domain registration and eHost was one of the best hosting providers out there. Wanting the best of both worlds we therefore decided to have them separate.
If you want more information why we went with eHost in the first place click here for our top 4 reasons why we prefer eHost as our hosting provider.
As it however is a bit more complicated to set everything up correctly so that your domain is properly connected to your hosting server I'll explain in this blog post how to point your GoDaddy domain to your eHost server.
How to point your GoDaddy domain to your eHost server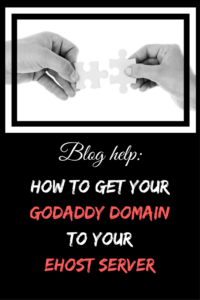 Since our own website is registered with GoDaddy and hosted by eHost I'll point out the procedure based on these two providers.
Let's assume you've just started and bought your domain with GoDaddy and a hosting plan with eHost.com. If you now type in your web address in your browser, you will most likely see a page popping up telling you that your domain is currently parked by GoDaddy.
What you need to do now is to point this domain towards your eHost.com server. I'll explain the steps neccessary to do this below 🙂
---
Find your name servers for eHost.com
First of all, you need to find out the name servers for your eHost account. Please refer to this help page on how to achieve this.
Remember to write the two name server addresses down somewhere, this will speed up the process in the future, since you don't have to look them up all the time.
---
Re-point your domain to your name servers
After you made a note of your name servers (always two!) you need to log into your account with GoDaddy and go to "Manage My Domains" as shown in the below example.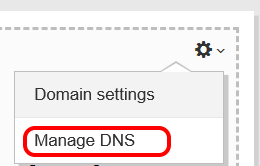 Here you'll find all the domains you own with GoDaddy. Look for the one you want to re-point, select and click on the small gear in the upper right corner and select "Manage DNS".
A new window pops up and you need to scroll down until you see the section for the name servers and click on change.
In the next window you need to switch the name server type to custom and insert your eHost name servers below. (Note, below is just an example - you need to insert the YOUR two name server addresses) Click on save and you're all set on side of GoDaddy. Your domain is now pointing towards eHost. 🙂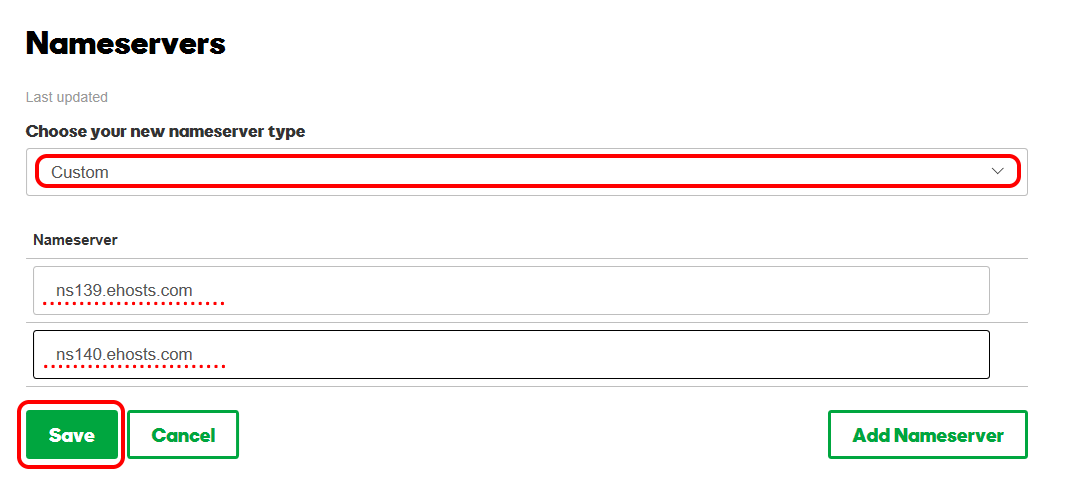 ---
Set up your domain at eHost
Now we need to set up this domain with eHost. For this, log into your eHost account. On the left hand side you'll see a menu where you should select "Domains" like shown in the picture below.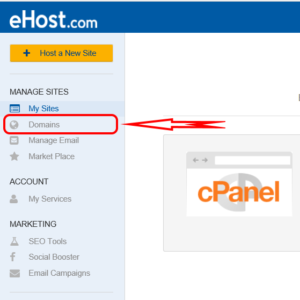 This will bring up a window where you can find all your domains you own with eHost and the ones which are connected to your account from external sources. Here you go to the tab "Already own a domain?" and insert your domain name into the field. (Note, check whether you have a www - prefix or not in your GoDaddy domain overview!) Confirm your action by clicking continue.

Ehost will now tell you that you need to set up an A record with your domain registrar. Since we've already changed the name servers towards eHost we don't need to do that. So just ignore this!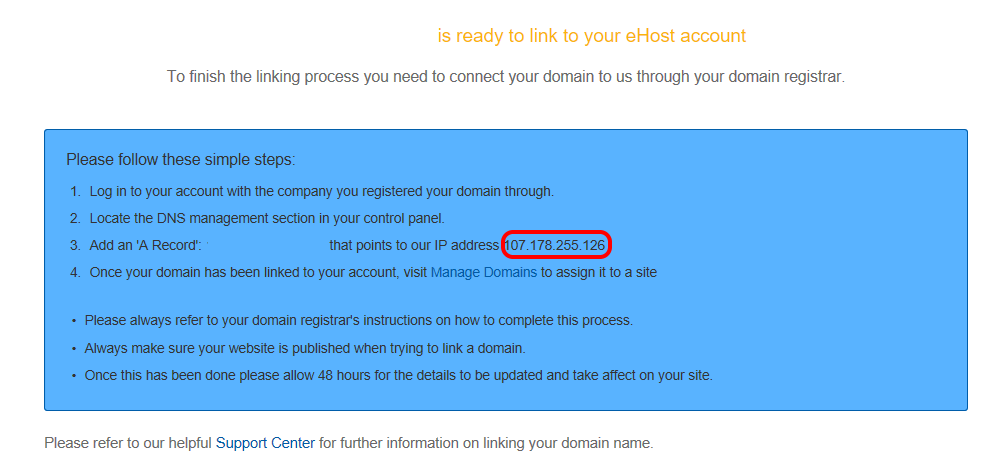 ---
Setting up your domain as primary or add-on domain
In the next step you need to decide whether you want to assign this domain as your primary domain or to set it up as an add-on domain.
If you only want to use this one domain then you can just select it as your primary domain. In order to do that, you click on Domains in the left menu again and select the domain you want to set up as primary domain.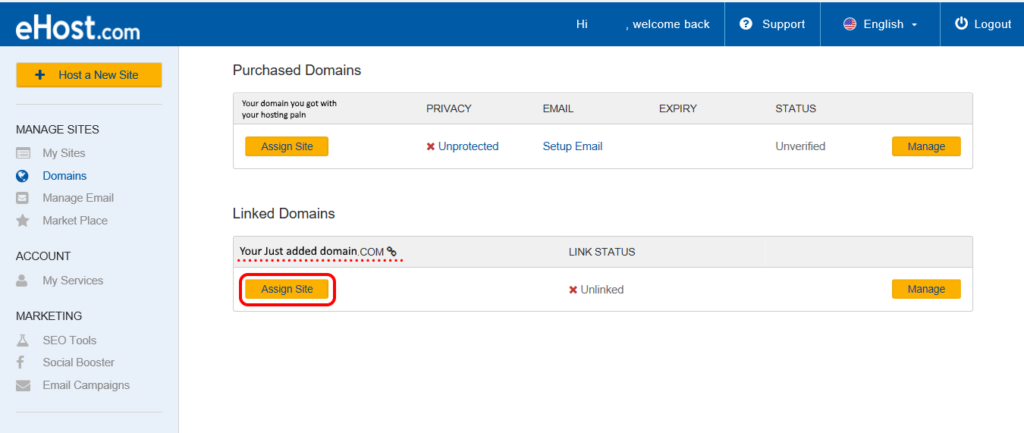 Click on assign site and select the current primary domain under your sites. (Most likely when this is your first time you will see the domain eHost gave you when you bought your hosting plan listed here). Selecting this domain will automatically substitute it with your new domain. Your new GoDaddy domain is now your primary domain and you are basically all set 🙂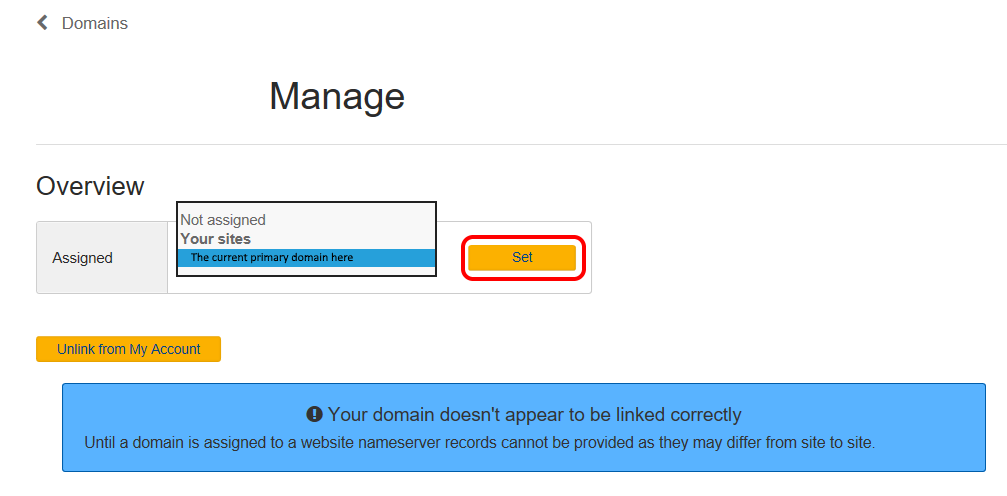 If you get this error message like shown in the blue box above don't worry, you can just ignore it for now. It basically means that eHost doesn't see this domain pointing towards you server but that doesn't mean that it isn't. It will work just fine anyway. 🙂
If you already have a primary domain set up and want to add another domain then you will need to assign it as an add-on domain as this will allow you to host several sites under one hosting plan. We will explain how to set up your domain as add-on domain in another blog post.
Now that you have your GoDaddy domain pointed to your eHost server you can go ahead starting your blog. You can install WordPress via the cPanel or any other CMS you would like and built your website.
Enjoy and leave us a comment if you have any questions with that. 🙂